conView
electronic door plate
Walldisplay to receive informations from databases (Outlook, Qt, etc.). It is like an electronic door plate with informational content, which changes when receiving data.
Through the open-style GUI (Graphical User Interface) with custom HTML / JavaScript API is it possible to design / edit the user interface (wallpapers, logos, menu layout and design, integrate their own content, etc.).
Connection between display and database through Ethernet or WLAN Interface.
The devices are designed with high quality components for continuous operation and in Germany Designed and produced.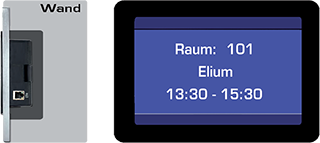 file description

file size

date

download

Technical datasheet 

(german)

1.330 KB
20.08.2014
Technical datasheet

 (english)

0 KB
16.04.2014

Firmware

0 KB
16.04.2014

RS232 / Ethernet protocol

0 KB
16.04.2014
Instructions

 (german)

0 KB
16.04.2014

High quality image

65 KB
20.08.2014