DIVA-CON-7
7 inch control unit
Professional automation system, with integrated 7 inch touchscreen display to control the lighting, security technology and media technology.
Through the open-style GUI (Graphical User Interface) with custom HTML / JavaScript API is it possible to design / edit the user interface (wallpapers, logos, menu layout and design, integrate their own content, etc. ..). The designed user interface is stored on the control unit and is accessible with browser compatible terminal devices (smartphone, tablet, etc.). 
The technical features of this control unit leave nothing to be desired. The conView has a integrated speaker and a microphone, so you can use it as a intercom with video and audio transmission. The control possibilities are supplemented with various I/O Ports, which allows to connect external devices (switch on/off via relays). The infrared and RS-232 interfaces allow to control external devices which have a predefined protocol (RS-232 protocol) or trained (of remote controls) communication.
Another technical feature is the integrated communication via the radio standard ZigBee, which reduces the installation expenses. Endpoints can directly be attached to the device and are automatically connected with the mesh network of the control unit.
The devices are designed with high quality components for continuous operation and in Germany designed and produced.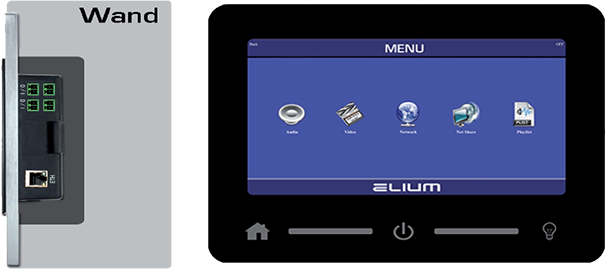 Features:
7 inch touchscreen wall display with integrated control unit


possible to

design / edit the user interface

and accessible with browser compatible terminal devices

(smartphone, tablet, etc.).




The integrated RS-232 / Ethernet protocol enables optimum integration into existing automation systems



2 x RS-232 to control external devices optional

8 x I/O control outputs 12V / GND optional

Infrared input for remote controls optional


Infrared output to control infrared A/V-devices optional



ZigBee radio connection to endpoints (for example media, security, lighting or thermo technology) as a mesh network

Integrated speaker for audio applications (intercom)

Integrated microphone (intercom)


Network connection via Ethernet / WLAN /




PoE (Power over Ethernet) optional
file description

file size

date

download

Technical datasheet 

(german)

2.190 KB

20.08.2014

Technical datasheet 

(english)

0 KB

16.04.2014

Firmware

0 KB

16.04.2014

RS232 / Ethernet protocol

0 KB

16.04.2014

Instructions 

(german)

0 KB

16.04.2014

High quality image

100 KB

20.08.2014